Electric air heaters are used to heat up dust-free air flows and non-flammable, non-toxic gases; they are mainly used in the ventilation and air-conditioning units and systems of buildings to heat up ambient and inhaled air.

For this reason, electric air heaters are completely free of minerals and therefore do not fall under the "Technical Rules for Hazardous Substances" (TRGS 905 of June 1997), in which synthetic mineral fibers ( 1 m ) have been classified as carcinogenic by the German Federal Ministry of Labor and Social Affairs since May 1997 (category 3 of the carcinogenicity index).

Thanks to their low-temperature, mineral-free, heating coil design, electric air heaters are completely odorless and meet DIN requirements for clean rooms as no particles can burn inside the heaters or enter the inhaled air or clean rooms via material emissions and/or abrasion.

Models:
a) slide-in unit for air-handling units (frame made of galvanized steel, stainless steel, or aluminum sheet metal)
b) installed inside a duct (made of galvanized steel sheet metal with flange circumference of 20 or 30 mm)
c) connected to both sides of a tube, DN 200/315 mm (same material as (a) above)
d) Custom designs upon request

Heating elements:
non-glowing heating coils made of corrosion-resistant nickel-chromium heating wire,
small mass of heating wires, large radiating area, short heating and cooling times,
no reheating (therefore fan delay not required), air resistance of 20 Pa to 6 m/s
(other values upon request).
LE series: slide-in air heaters
Use: in air-conditioning and ventilation units as preheaters, reheaters, or main heaters
Information required for custom models: size, power, air volume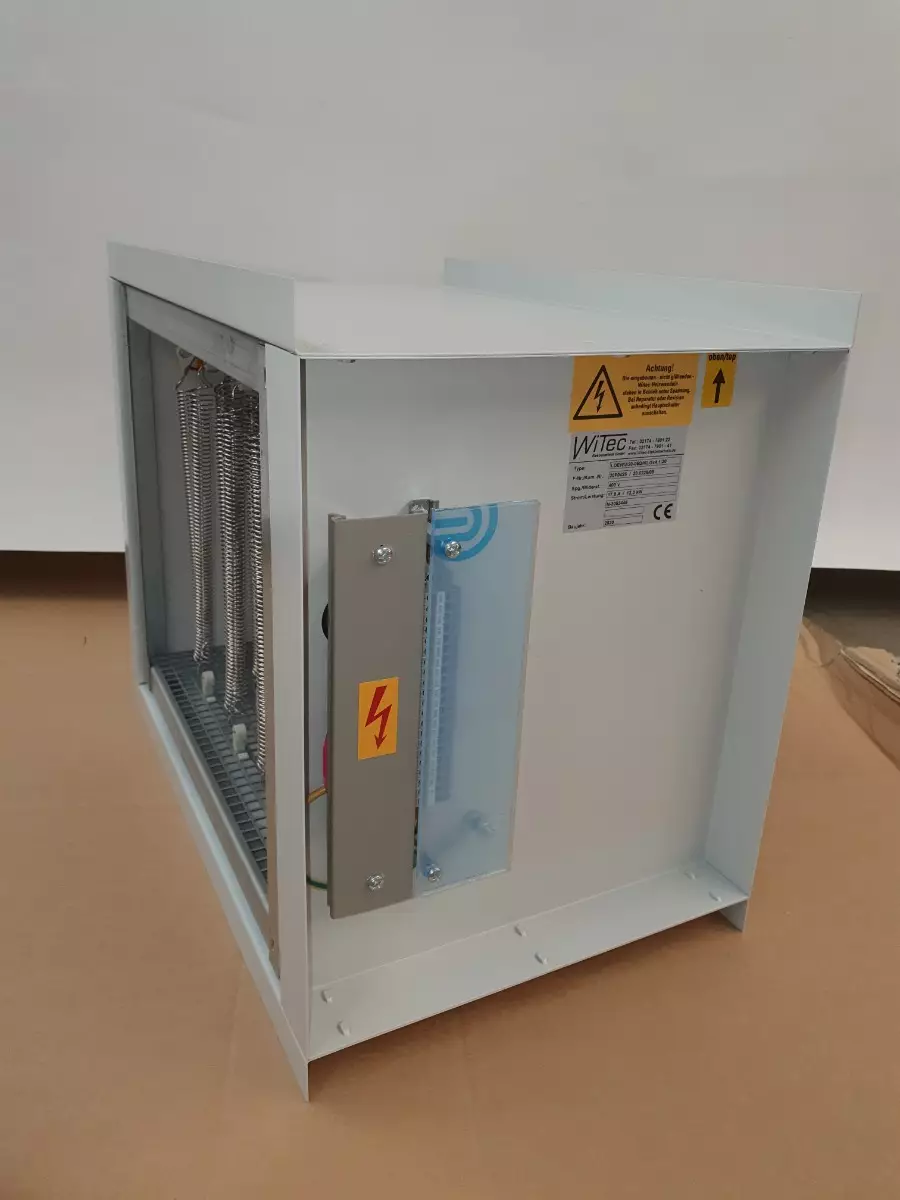 LKS series: air heaters in ducts with flanges on both sides
Use: in ventilation units as preheaters, reheaters, or main heaters
Information required for custom models: size, power, air volume